We're midway through EDUCAUSE's list of the top 10 IT issues in higher education for 2019. Our fifth installment examines the importance and challenges of digital integration for school IT teams.
Integrating digital systems is a juggling act. This is truer in higher education than in most industries. School IT teams have to manage a myriad of systems and applications. This includes applications adopted centrally and at the departmental level, systems used campus-wide and research tools with just a few users. Managing so many moving parts is always a challenge. And when data has to be shared between these disparate applications, it becomes even harder to ensure they all work and play well together.
Nevertheless, it's extremely important for school IT teams to integrate the applications used at their institutions. The value of streamlining access to decision-driving data is too great not to. So are the risks to data security and integrity that come with non-integrated systems.
Let's look at some of the challenges associated with data integration more closely. Then we'll look at why it's so important for institutions to overcome these challenges and some tips for doing so.
Why Is Digital Integration So Difficult?
The value of integrated systems is well known among school IT teams. So why is it such a challenge for many schools to accomplish?
A lot of the difficulty comes from the nature of higher education. It's common for colleges and universities to manage multiple systems of varying age, functionality, and flexibility. There's little consistency in terms of how secure these systems are, who can access them, and what account credentials are used to do so.
Keeping so many systems up to date, providing support to their users, and ensuring their interoperability can be challenging and time-consuming for IT teams. The job is even more complicated at institutions that allow departments to adopt new applications without central oversight. In these cases, IT teams are often left scrambling in the dark, trying to manage systems they may not even be aware exist.
Why Is Digital Integration So Important?
There are serious risks to having too many distinct applications attempting to share information.
The least of these is the risk that information could be duplicated. When large quantities of data are entered into multiple systems independently of each other, a certain amount of redundancy becomes almost inevitable. A larger danger is that an update to any single application could break APIs, disrupting the entire information flow. Worse still are the risks to data integrity, as unintegrated systems are inherently less secure. Data breaches compromise both your students' PII and your institution's reputation.
Integrated systems are also much easier to maintain than scattered, siloed systems. Take software license management, for example. In disparate systems, IT teams inevitably manage relationships with dozens of vendors and the distribution of products to thousands of students, faculty, and staff – all independently of each other and under varying terms and conditions. When individual departments are able to adopt and distribute licenses without central oversight, the web of stakeholders and processes to keep track of can get very tangled. The result is a heavy administrative burden on IT, a confusing end-user experience, low resource adoption rates, and the added expense of supporting multiple siloed systems.
Here's what academic software licensing typically looks like in an unintegrated system.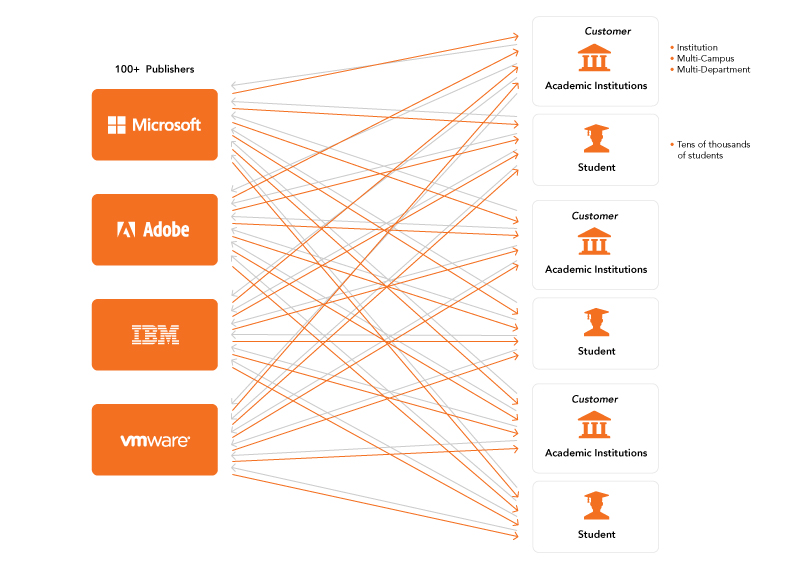 How Kivuto Can Help with Digital Integration
Kivuto Cloud is a solution that streamlines and simplifies the management and distribution of software licenses, eTextbooks, cloud services, and other digital resources. It was designed specifically to support the complexities of the education industry. Kivuto aims to alleviate the challenges associated with managing licenses in an unintegrated system.
With Kivuto Cloud, all digital licenses are distributed through a single platform. It has only one API for IT teams to manage and a single point requiring governance and security verification. This eliminates many of the pain points of software distribution. Kivuto's online stores make the process easier on end users too. These branded storefronts provide a one-stop shop where all students, faculty, and staff from all departments at an institution can get every digital resource they need.
Here are some other features Kivuto Cloud brings to the table.
Integration with all major LMS providers
Support for multiple types of single sign-on (SSO) integration for security and ease of access
Membership in a federation of 20 education-based identity providers for scalability and ease of use
Complete customer support for both end users and administrators
Here's how academic license management looks using Kivuto Cloud.